If you have not seen the "matka painting" pictures on our facebook page then do click here to check them out, I'll then tell you what this pot painting has got to do with our topic here today
The Matka painting was a part of a larger design project for a traditional themed space that we had taken up. The painter who was given the job is a top hand in wood polishing and coating work but when it comes to the Matka, even the most able hands start to shiver & stutter. So, sensing Ramkumar's distress & lack of confidence to get the output I needed, I sat down beside him and started doing part of the painting myself, shortly after, our supervisor Vignesh dropped in (the one in black with the dancing figures is partly his creation) and within the next couple of hours the three of us, supported by more than just a few cups of coffee, were done – mission accomplished.
Here is a picture of the celebrations on the pot 😊.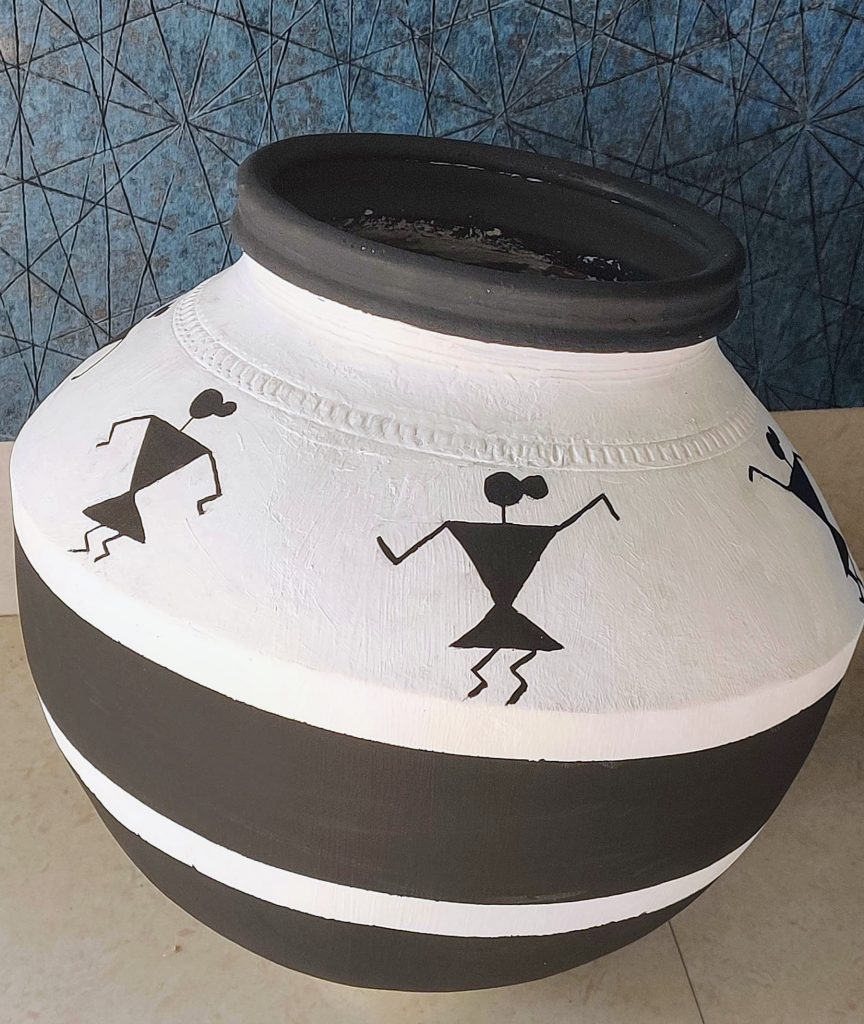 What the exercise made me think was that Interior Design is not just about the Designer herself but it is really about the whole team that must come together around a project to deliver to the requirements.
Recently we also did an exercise to consolidate a list of all the people and teams who jointly deliver on an Interior Design Project and just take a guess how long that list turned out to be … take a wild guess…
its 29 – TWENTY NINE – see below.
The people / teams that work on your home
Carpentry
Painting
Decor & Murals
Lighting
Modular Furniture
False Ceiling
Wall Panels
Hardware
Wall Papers
Furnishing, Mattresses & Carpets
Solid Wood Furniture
Regular / Speciality Furniture: Cots, Sofa Sets Etc
Bathroom Fixtures & Sanitaryware
Tiles
Marble
Artist including Marble, Wood Carving & Inlay work
Plumbing
Electrical Work
Landscaping
Automation
Security & CCTV
Glass & Mirrors including Shower Partitions
3D Designer / Visualizer
CNC Cutting
Air conditioning
Home Appliances
Ply & Laminate
Sound Proofing
Aluminum / Grill Work
The designer's job, beyond just the creative design bit, is really to juggle the teams and to align them to the project at the right moment and with enough background and detail to ensure that the output is first up-to her own design standards and then that of the client.
The education systems in the country have recently begun to recognize Interior Design as an Industry (imagine 29 teams delivering a single project) and there are numerous institutes now offering formal BSc Interior Design degrees. Customers too are slowly realizing that Interior design is more than just glorified carpentry. Someone summed up well when she said – "No one can whistle a symphony. It takes a whole orchestra to play it" – May the tribe grow
Signing off
Nandita
Nandita Manwani is a leading Interior Designer in Bangalore and is the founder of The Studio by Nandita Manwani