Earlier this April I had written about our hunt for optimizing cost for Interiors and how that exercise took our teams to parent manufacturers cutting out the middlemen etc. (you can read about that here). The whole objective was to be able to give home-makers a complete an honest home design experience – not just the furniture but all the 5 elements including Lighting, Painting, Furniture, Furnishing & Décor at starting rates that don't burn a hole in the pocket and at the same time compromising zero on material, finishes and work ethics.
Well now we do have tangible output from that exercise and am glad to announce new package rates from The Studio for Interiors in Bangalore. The 2 BHK package starting at 6 lac includes just about everything needed to experience and get a feel of quality home interiors and not just what you might call the tail of the elephant – remember the blind men and the elephant story… :). The packages come with their own set of limitations, standard sizes etc. which are obvious with the frugality-based approach, but for folks with limited budgets, we think, these would be a game changer.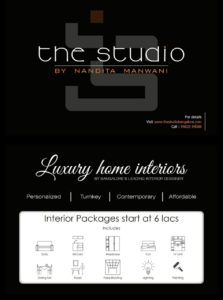 The flier attached is what we are using for the announcement. If you want to know more, then feel free to reach out.
Cheers
Nandita